Molly & Georgia here at Dream Weddings. Over the next month we will be sharing with you some tips to increase your wedding photography bookings, offline. Yes, offline. With the online world becoming dominant, there is a big market for promotions offline. This week we will focus on a strategy to provide a personalised preview to prospective clients.
In order to get a booking, prospects have to know you exist. Often all this involves is an introduction and voila you have a paying customer. The following strategy is a great way to get in front of brides early on in the wedding planning process.
>> You know you're great at what you do, but how do you show clients that you are? Imagine you could provide a personalised preview of your work first to encourage them to book….
Example:  Many bridal makeup artists will take trial photographs of a bride during her makeup trial sessions in order to show the client how their look will capture on camera on the big day.
Often by the time a Bride books in for her makeup trial, the wedding photographer is usually booked. However, as a photographer, if you were able to collaborate with a vendor who falls earlier on in the wedding planning cycle, for instance a bridal shop, this could work very well.
You could offer to visit the shop on weekends you have available to take complimentary photos of brides who have found their 'dream dress'.
Why is this great? It provides brides with the opportunity to preview your work & an insight on what it would be like to work with you. It also allows you to provide them with a business card & perhaps to capture their email address/interest early on in the wedding planning process.
Not to mention that the sample of your work they will get to see will be of themselves, making their experience with you a lot more personalised.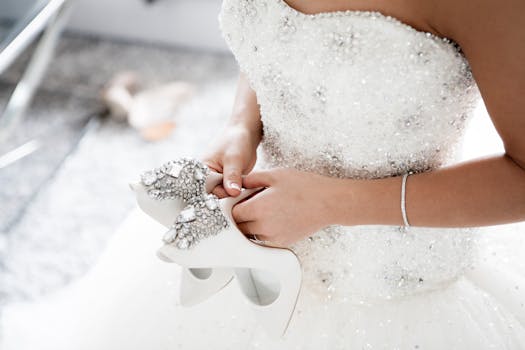 How could this work?
Get in touch with bridal shops in your local area to suggest to them the opportunity for on-location photo shoots for when customers find their dream dress.
Offer to email the bride her photo & request their permission for you to contact them via email in writing.
After every photo shoot day you should upload your email contacts to your email database list and send each bride the photo of them, along with a brief summary of your photography service and what makes you unique.
Continue to email tips & wedding planning guides by email to your entire email list.
>> There we have it, simple. Try to implement this strategy & see the sales roll in. Let us know how you get on 😊
As always, please feel free to get in touch with us if you'd like any more information: info@dreamweddingsmarketingandbranding.com